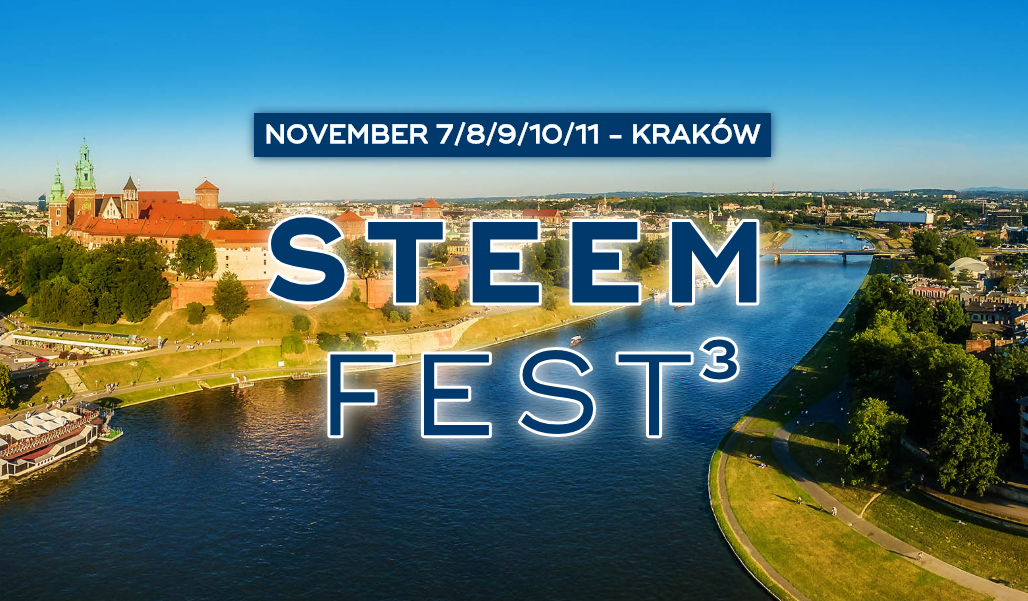 STEEMFest 3 – Kraków, Poland
November 7, 8, 9, 10, 11 – 2018
FOR ALL DETAILS PLEASE VISIT:
The speaker & performer lineup is:
Founder of Steem and CEO of Steemit
Content Director, Steemit
Cofounder SteemMonsters and founder Minnow Support Project
Online instructor with 350,000+ students, entrepreneur, world traveler
Creator of Partiko, founder at Bit.Study
Travelling data analyst, aspiring photographer, and one of the SteemPeak 'guys'
Olha – Community manager, contentmarketing Scorum
Anarcho-capitalist, libertarian and freedom fighter against the state & central banks
Digital nomads, public speakers and travel content creators
Witness, developer of SteemPlus and 1UP
CEO Oracle-D, Co-Founder Promo-Steem
Founder of eSteem Mobile/Surfer and other Steem apps
@Curie Top Curator, Co-Founder of the Curation Collective (@C-Squared)
Cofounder of Sndbox + The Creative Crypto Magazine
Cofounder of Sndbox + The Creative Crypto Magazine
Artist, urban sketcher and markers guru
Sci-Fi author, entrepreneur, tech geek and motivational speaker
Film actor, screenwriter, producer and founder of steem.film
Content creator and Steemhunt moderation team
Blockchain Competence Centre leader at the European Commission
Cofounder of The Writers Block, Steemhouse Publishing and Wordrow
Founder of Musing.io
CTO Oracle-D, Co-founder Promo-Steem
Developer of D.Tube
Serial tech entrepreneur, lawyer and public interest advocate
Media consultant & entrepreneur
Musician, sound engineer, podcaster
Guatemala dweller, hostel owner, improv performer, event manager, slam poet
Entrepreneur, Videography, Aspiring Filmmaker
Vlogger, Entertainer, Artist
Vlogger and co-founder of Ddaily
Vlogger, Podcaster and Co-founder of Ddaily
CEO, Speaker, consultant, author, traveller, BBQ and #BeerSaturday creator
Co-Founder CleanPlanet, liberal nurse
Co-Founder CleanPlanet, crypto-experimentalist
SteemPress co-founder, economist and entrepreneur
Annemieke Dirkes
Voted spokesperson for BitShares blockchain
Rudex.org, modern nomad and crypto enthusiast
CMO of Utopian, blogger, pink wonder
CEO of Utopian, an initiative empowering open source development on the Steem blockchain and beyond
Founder of FutureShock and Fundition
Creator, artist, vlogger, entrepreneur
Co-founder of @SteemRomania, OCD curator, Sndbox steward
Co-Founder of @SteemRomania, business developer, witness
Entrepreneur, developer, creator of SteemitBoard, SteemSQL and blockchain based applications
CEO of Waivio, excited about potential of open attention trading
Witness, blockchain developer, cryptocurrency evangelist, voluntaryist & music addict
Founder of Steemitworldmap and Learntocurie!
Communications manager, mentor of the @GlobalSchool
Project manager, mentor of the @Globalschool
Co-founder, 1Ramp. Building tech for creative communities
Priscilla Hernandez: composer, singer, fantasy illustrator, nature lover …
Vlogger, Founder of Steemit Health – Half of The SteemBirds
Music/Food/Photos/Travel/Creative – Half of The SteemBirds
Writer, rebel, musician, dragon rider and bright-hearted human
Record label manager, music producer and DJ
Singer, musician, producer, musicoin ambassador and Artzone curator
Software engineer by day, Blockchain developer by night. SteemPress co-founder
Cryptocurrency savage … because the future is digital
Co-founder and designer of Steemhunt
PR, marketing manager, co-founder & mentor of @globalschool
IT developer and blockchain enthusiast
Artzone & WAfrica creator, Steem Communities builder, Crypto fan, UI/X veteran
Founder WeAreChange.org, independent news media
Busy.org Founder and CEO, Next-gen Social Network and Open Platform of Apps
U°OS and U°Community Product Lead
Remember to check out https://steemfest.com/ 
Can't wait for all the news and information that shall be shared to one and all about the future of STEEM!
Signing out for www.steemaustralia.org
@jackmiller